After entering in the Gulf of Tonkin, a low tropical pressure caused heavy rains, strong winds and terrible floods in the northern and central provinces, reported by the Central Hydrology Meteorological Forecast Centre on August 29.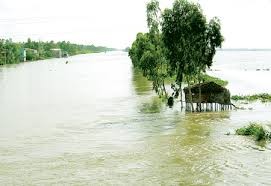 (Photo:SGGP)
Consecutive heavy rains have experienced in the northern provinces from Quang Ninh to Lao Cai, Yen Bai and Thanh Hoa.
In addition, the heavy rains caused appearece of flood in Thanh Hoa province. Because of influence of the pressure circulation accompanied with south-eastern monsoon, heavy rains shouldered in the area of Thao River with a large rainfall yesterday.
The rainfall was measured from 74mm to 123 mm at several locations such as Phu Ho, Ngoi Thia, Ngoi Hut, Tram Tau, Ngoi Phu and Sapa. Water level on Thao River  risen rapidly, measured at 30,14 meters over warning level 1 at 1 pm yesterday. The water level was forecasted to increase high over warning level 2 on Saturday.
The bad weather caused serious damages to traffic vehicles. Two tourist boats were unexpectedly sunk by strong waves yesterday while they were anchoring at Bai Chay tourist port in Ha Long city
Earlier, the rains and thunderstorms unpredictedly moved in the area of Ba Hang beach, swept a tourist boat on Thursday. Luckily, all passengers were rescued.