The low pressure zone which intensified into a tropical depression early this morning, culminated into a heavy downpour in the southern part of the East Sea.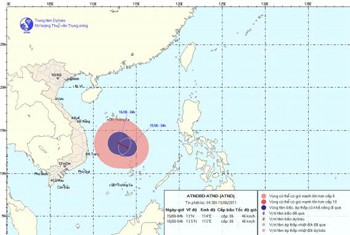 Chart shows the direction of the tropical depression on June 15 (Photo: nchmf)
The national weather bureau reported that by 4 am this morning, the depression was centered at 12.5-13.5 degrees north latitude and 113.5-114.5 degrees east longitude in the middle of the East Sea. Strong winds of level 6 were moving at 39-49 kilometers an hour.
Within the next 24 hours, the tropical depression will remain stationary or move gradually northwestwards at five kilometers an hour.
By the weekend, the southwesterly winds will strengthen in the southern parts of the East Sea. The waters off Binh Thuan to Ca Mau Province will remain rough causing a threat to boats, according to the National Hydro Meteorological Forecasting Center.
In related news, the heat wave in Thua Thien-Hue central province received some respite from a brief downpour yesterday afternoon.
The rain helped salvage farmers' crops of rubber, coffee and fruit trees in Nam Dong, A Luoi and Phong Dien districts. It also helped to desalt and wash away alum from 20,000 hectares of rice fields.
 
However, the scorching weather conditions in the central region will continue today, with similar conditions prevailing in parts of the northern region as well.