A new tropical depression has entered the East Sea and is forecast to intensify into a storm by tomorrow morning, as per the national weather bureau.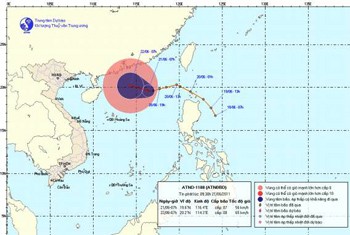 Chart showing direction of the tropical depression entering East Sea on June 21
The National Hydro Meteorological Forecasting Center says that at 7am this morning, the tropical depression was centered at 19.6 degrees north latitude and 114.6 degrees east longitude, 440 kilometers southeast of Hong Kong.
Strong winds peaked at level 7 to move at 50-61 kilometers an hour.
Within the next 24 hours, the depression will move westwards at 10km an hour and might intensify into a typhoon. The strongest winds near the storm's center are forecast to reach level 8 moving at 62-74 kilometers an hour.
The Central Steering Committee on Flood and Storm Prevention has asked coastal provinces in the northern and central regions to brace for the tropical depression.