A tropical low-pressure system over the southern part of the East Sea continues to affect weather in the southern region while a new storm, Nida, is forming over the Pacific Ocean, the national weather bureau said.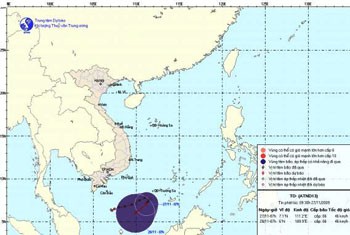 A tropical low-pressure zone situated over the southern part of the East Sea on November 27 (Photo: National Hydro Meteorological Forecast Center)
The storm was at 15.4 degrees latitude and 139.9 degrees longitude on the afternoon of November 26 and is forecast to move northwest at a speed of 10 kilometers an hour. The storm has winds at level 13-14, or 134-166 kilometers an hour.
The tropical depression on November 27 was at 6.6 to 7.6 degrees latitude and 110.7 to 111.7 degrees longitude. The strongest winds near the depression's eye reached level 6, or 39-49 kilometers an hour.
In the next 24 hours, the depression is forecast to move southwest at a speed of 5-10 kilometers an hour.
Le Thi Xuan Lan, deputy director of the Southern Regional Hydro Meteorological Center's Forecasting Department said that the depression and northwesterly winds would cause heavy rains and flooding to some areas in Ho Chi Minh City and the southern region.
The southwestern region of the East Sea including Truong Sa (Spratly) Islands and the waters off the region between Binh Thuan to Ca Mau provinces will see level 6 winds with gusts up to level 7-8.

Related article:
Depression cools southern weather