A tropical low pressure system is moving towards the northeast of Truong Sa (Spratly) Islands, said Le Thanh Hai, deputy director of the National Hydro Meteorological Forecasting Centre.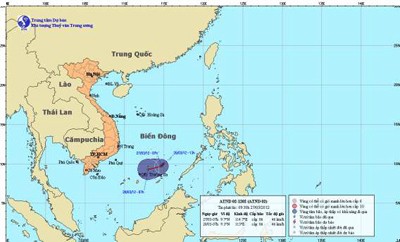 Chart shows position of the tropical low pressure system in the East Sea (Photo: SGGP)
At 7am this morning, March 27, the system was centred 9.2-10.2 degrees north latitude and 114.2-115.2 degrees east longitude, 190 kilometres south of Song Tu Tay Island.
Wind gales of level 6 blew at 39-49 kilometres an hour near the centre of the tropical low pressure system.
Within the next 24 hours, the system will slowly move west and southwest at 5-10 kilometres an hour.
By 7am tomorrow, it will locate 120 kilometres east northeast of Truong Sa Islands. Wind gales will remain unchanged.
Mid and southern parts of the East Sea will turn rough, affected by the tropical low pressure system and strong northeasterly winds.
The waters off the central coasts from Quang Ngai to Binh Thuan Provinces will turn choppy. Coastal areas of these provinces will be lashed by strong winds and may experience medium to heavy rainfall from tomorrow, March 28.