A low tropical pressure has operated strongly in the area of East Sea, reported by the Central Meteorology Hydrology Forecast Center.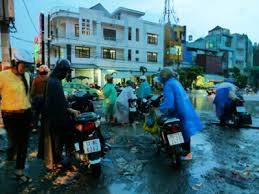 (Photo: SGGP)
The pressure was located at 16, 5 degrees north latitude and 116,5 degrees east longitude, about 470 kilometers east of Paracel Island. The pressure sustained wind speeds of level 6-9.
According to forecast weather, in the next 24 hours, the tropical depression will move between west northwestwards and northwestwards at 15 km per hour. By 1 pm on Sunday, the tropical depression is forecast at 18.7 degrees north latitude and 113.4 degrees east longitude, about 240 kilometers in northeast of Paracel Island.

Due to the influence of the tropical depression, northeastern territorial water of Paracel Island will see strong wind speed gusts level 6-9, accompanied with thunderstorm, cyclone.
In addition, because of influence of the southwest monsoon, the territorial waters from Binh Thuan to Ca Mau provinces will face strong wind of level 5-8, strong thunderstorms and cyclone.
On September 6, the Central Steering Committee for Flood and Storm Prevention sent emergency messages to relevant ministries, agencies and the Provincial People's Committee of coast provinces from Quang Ninh to Ca Mau and Kien Giang to guide to coping with bad weather.

Yesterday, hours-heavy rains flooded badly many main street routes in Ho Chi Minh City like Nguyen Huu Canh (Binh Thanh District), Phan Xich Long ( Phu Nhuan district), Huynh Tan Phat (District 7) and caused traffic jam in the inner city.