A tropical low pressure system has taken shape on the Pacific Ocean and is moving towards the East Sea, according to the National Hydro Meteorological Forecasting Center.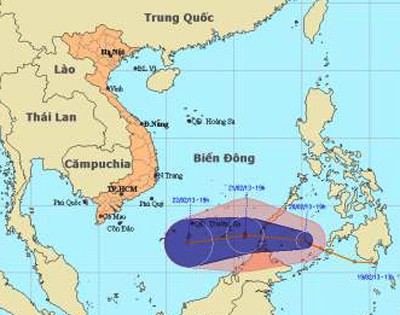 Forecast direction of the tropical depression on the East Sea (Photo: national weather bureau)
At 7am on February 21, the system was located on the Xu-lu waters of the Philippines. Wind gales blew at level 6 to move at 39-49 kilometers an hour.
The tropical low pressure system is forecast to head west at 15-20 kilometers an hour in the next 24 hours.
 
By 7am on February 22, it will be located 350km east-southeast of Truong Sa (Spratly) Islands, wind gales will remain unchanged at level 6.
Meantime, a cold front has slammed into the northern region on February 20 and caused cold and rainy condition in several areas in the northern and north-central regions. It will be colder with more rain in the next few days.
Being affected by the tropical depression, the weather in the southern region is going to turn cloudy and rainy, putting an end to the ongoing heat wave. Temperatures will reduce and it will be cool.