A tropical depression hit the territorial sea in central Viet Nam on Tuesday. The heart of the depression last night was 280 kilometers off the coast of Thua Thien Hue province, causing Da Nang city to experience winds of up to 61 kilometers/ hour.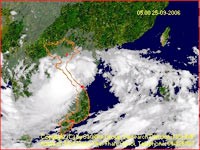 The depression moves to the central provinces of Viet Nam

According to the National Hydro-meteorological Forecast Centre, the complexity of the depression is developing and over the next 24 hours, it will travel northwesterly at a speed of 10 to 15 kilometers an hour, directly affecting coastal areas from Da Nang to Quang Binh and the south of the Tonkin Gulf.

Mr. Vu Anh Tuan, Chief Officer of the National Hydro-meteorological Forecast Center, predicts that the depression will travel along the coast of Viet Nam to the Tonkin Gulf. However, he mentioned that it might move across the coastal central provinces. He also said that the depression is not strong enough to be classified as a storm.

According to the Flood Prevention, Control and Rescue Committee, 175 fishing boats working far off-shore from Thanh Khe, Hai Chau and Son Tra districts and 438 fishing boats with 2,130 employees working near the coast of Quang Binh Province and Da Nang City have returned to port after receiving severe weather warnings over the ICOM phone.

In Quang Nam Province, border posts began to announce the depression to 295 fishing boats with about 2,380 employees, however many have yet to receive the information.

In Quang Ngai Province, there are over 1,323 fishing boats with 10,941 employees working out at sea. Twelve have returned to safety and over 50 deep-sea fishing vessels have received the warnings.

Mr. Le Tien Dung, the Director of the Da Nang Radio Center, said that they have been broadcasting the weather warnings 24 times a day across two channels to ensure that the fishing boats are continuously receiving updated information.

In the territorial sea, rough seas caused by the depression meant that a boat whose engine had broken down was unable to be towed to safety by two other vessels. The necessary authorities have been informed of the situation, Mr. Dung said.

Predictions show that the depression will continue to affect the central and southern central provinces on July 4 and 5, the date of the university entrance examinations. In HCMC, heavy rain at the exams' finishing time is likely to affect road traffic and safety.

Mr. Banh Tien Long, Deputy Minister of Education and Training, sent an urgent message requesting that universities and institutions cooperate with local authorities to ensure the safety of the students and the security of examination documents and materials.