The National Hydro Meteorological Forecasting Center has said that a tropical low pressure system has occurred in the southern parts of the East Sea and will affect the weather in the southern region in the next few days.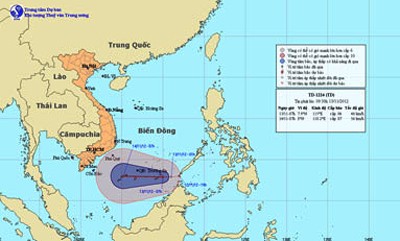 Position of the tropical low pressure system on the East Sea on November 13 (Photo: nchmf)
At 7am on November 13, the tropical low pressure system was centered 7.9 degrees north latitude and 115.0 degrees east longitude.
Strongest winds near the center of the system reached level 6 to move at 39-49 kilometers an hour. The system is now moving westwards at 20km an hour and might strengthen within the next 24 hours.
 
The southern region will see rain from November 14-15.
In the northern region, the ongoing cold front continued to plunge temperatures to 10 degrees celsius on Mau Son Mountain in Lang Son Province and Sa Pa District in Lao Cai Province on November 12.
Most other mountainous areas in the northern region also saw mercury drop to 15 degree celsius and 18-20 degrees in the Red River Delta.
In related news, the Southern Regional Hydro Meteorological Center said that the high tide in rivers in the southern region will surge on November 15-17 due to southeasterly winds.
The tide level will reach 1.60m at Phu An Station on the Saigon River and Nha Be Station on the Dong Dien Canal.