The low pressure zone on Friday morning intensified into a tropical depression system north of Truong Sa (Spratly) Islands. The National Hydro Meteorological Forecasting Center said it would cause torrential rains in central provinces from Thua Thien-Hue to Binh Dinh.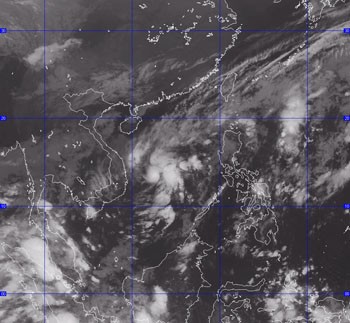 A satellite view of the tropical low pressure zone off Vietnam central coast (Photo: The national weather bureau)
As of 7am, the system was 410 kilometers east off Quang Ngai to Khanh Hoa Provinces' coast. Strongest winds near the system center peaked 39-49 kilometers an hour.
The depression is forecast to slowly move westward at five kilometers an hour in the next 24 hours. On tomorrow morning, it would lay centered 12.9-13.9  degrees north latitude and 111.8-112.8 degrees east longitude, which is about 330 kilometers east of Binh Dinh to Khanh Hoa provinces.
           
Affected by the tropical low pressure zone and northeasterly winds, medium to heavy rains would roll in and might trigger new floods to the central region in the next few days.
The recent floods have devastated several portions in Phu Yen, Khanh Hoa and Quang Ngai provinces.
In the north, the cold front has abated but is forecast to return in the next two to three days. In spite of cold weather, it would be sunny and dry, causing droughts in some localities.