The tropical low pressure that caused flooding in many areas of HCMC yesterday may cause heavy rains and even higher tides with the added impacts of cold air and the northeastern monsoon, the HCMC Steering Committee for Flood and Storm Control has warned.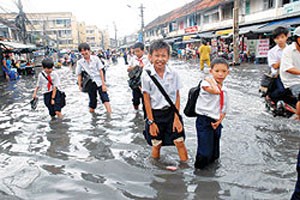 High tides caused flooding in HCM City's district 4 yesterday afternoon. (Photo:Thanh Nien)
In order to cope with changes that could happen, the Central Steering Committee for Flood and Storm Control yesterday sent an emergency dispatch to the provinces of Quang Binh to Ca Mau and Kien Giang, Ministry of Defense, Ministry of Transportation, Ministry of Foreign Affairs, and the Petrol Vietnam (PVN) to ask them to keep ship owners informed.
These provinces and organizations have to help prevent serious damage by closely monitoring the situations and keeping constant contact with vessels on the sea.
Off shore enterprises should prepare to protect their staff and property, the dispatch said.
City areas flooded
High tides triggered by the tropical low pressure caused serious flooding in many areas of Ho Chi Minh City yesterday afternoon.
Major streets like Nguyen Huu Canh Street in Binh Thanh District, Ngo Quyen and Nguyen Trai streets in district 5, and Nguyen Van Luong, Kinh Duong Vuuong streets in district 6 were flooded.
Many motorbikes broke down and caused traffic jams in some places.
In many places along the Saigon River, like the Ba Cam, Giao Khau, Trum Bich canals; and Chua and Kinh bridges in Thanh Loc and An Phu Dong wards of District 12, water overflowed dykes and flooded the areas.
A similar situation prevailed in wards of Hiep Binh Phuoc (Dia, Ba Tam canals), Tam Phu (Rach Vo dyke), Linh Dong (Ba Ca dyke, and Dia and U canals) in Thu Duc district.
The communes of Nhi Binh, Dong Thanh, Thoi Tam Mon in Hoc Mon District, and Phong Phu, Tan Nhut, Hung Long in Binh Chanh District were also submerged.
The pressure
The center of the tropical low pressure is located at nine to ten degrees north and 114 to 115 degrees east. The strongest winds near the centre of the pressure have been measured at force 6 (39 to 49km per hour) with gusts exceeding force 6, the Central Hydro-Meteorological Forecast Center announced yesterday afternoon.

It will cause strong winds and rough seas in the southern region of the Eastern Sea including Hoang Sa Islands.

It is forecast that in the next 24 hours, the tropical low pressure will slowly move to west-southwest direction at speeds of 10 to 15km.

At about 4pm on November 13, the center of the tropical low pressure will be located at 7.9 to 8.9 degrees north and 111.7 to 112.7 degrees east in the Truong Sa Islands area. Gusts will range from 39 to 61kmph, the center forecasts.

Preparedness measures

Le Thanh Liem, deputy head of the HCMC Steering Committee for Flood and Storm Control, yesterday called on the city's sub-department of Quality Management and Fisheries Resource Protection, the People's Committee of Can Gio District, the Border Guards, and the Military Headquarters in HCMC to take steps to ensure safety of people and shipping vessels.
These organizations should update information about changes in the tropical low pressure regularly for captains of vessels as well as fishing boats, Liem said.
Besides, district People's Committees have to help people reinforce their homes to prevent collapses and other damage storms, tropical low pressures and whirlwinds occur, he added.
The Hydro-Meteorological Forecast Center in the south, forecasts that water levels may reach the peak of 1.48m at Phu An today and increase to 1.49m tomorrow.
Yesterday, the high tide was at 1.47m on the Sai Gon River. It overflowed and breached dykes in some places of districts of 12, Thu Duc, Binh Thanh, Hoc Mon, and Cu Chi.