The northeast monsoon in companied with tropical low pressure circulation from the northward have caused medium- heavy rains, powerful wind of level 6- 9, big waves of 2- 4 meters and sea rough in the central coastal provinces from Quang Tri to Quang Ngai, reported the National Hydrology Meteorology Forecast Center.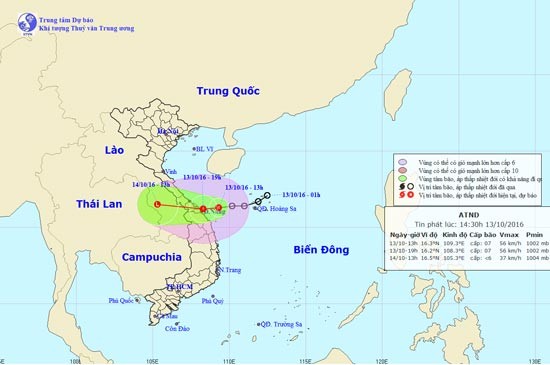 Tropical low pressure will cause heavy rains in next several days.
The depression was centered at 120 kilometers of Da Nang seashore with its maximum speed of 50- 60 kilometers an hour at 1pm yesterday.

By 7pm of the same day, its position was defined in the mid central seashores. The strongest wind blew at level 7-9.

Because of its impact, the coastal provinces from Ha Tinh to Da Nang and Bach Long Vi saw wind of level 6- 9.

In addition, water level on rivers from Thanh Hoa to Quang Ngai is rising rapidly to alarm levels one and two. With the bad weather condition, small streams, lower zones and the mountain areas were warned an appearance of flash flood and landslide.

In the next 24 hours, the depression is forecast to made landfall in the mid central region, and then it will be weakened into the low pressure zone in Laos.

Due to impact from the tropical low pressure, northeast monsoon and wind turbulence, north central provinces from Thanh Hoa to Quang Ngai will see very – heavy rains with the highest rainfall of 150- 400 mm.

In the next several days, heavy rains continue covering both central highlands and southern provinces on the large scale.

In addition, the strong operation of the southwest monsoon will bring rain and thunderstorm in the southern territorial waters from Binh Thuan to Ca Mau, from Ca Mau to Kien Giang and the Gulf of Thailand.