A strong low pressure area developing into new tropical depression hit East Sea yesterday morning, according to the National Hydrology Meteorology Forecast Center.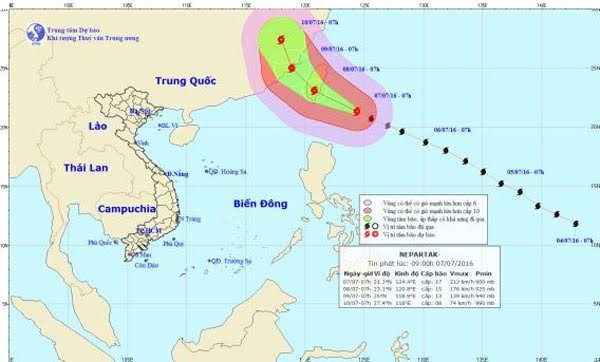 The direct of the tropical low pressure.
The depression was centered at 17 degrees north latitude and 117, 5 degrees east longitude yesterday, 560 kilometers of the eastward of Paracel Islands with the strongest wind of level 6- 8,.
In past 24 hours, its moved west northwestward at about 15- 20 km per hour. By this morning, the pressure was located at 190 kilometers of north northeastward of Paracel Islands, at 18, 4 degrees north latitude and 113 degrees east longitude. The wind speed near the center gusts level 6- 9.
Because of its influence, both the northeastern territorial water of East Sea  and Paracel Islands saw wind speed of level 6- 9, thunderstorm and sea rough. The weather situation is warned at level 3.
Moreover, heavy rains, thunderstorm, cyclone and strong wind hit the southern territorial water of East Sea and Spratly Island.
With the bad weather condition, the National Steering Committee for Natural Disaster Prevention and Control and the National Committee for Search and Rescue sent messages to the coastal provinces from Quang Ninh to Phu Yen and resposible units, asking them to keep close watch, report the number of vessels operating offshore, and provide information about location and direct of the low pressure for the ship owners.