Currently, a tropical low pressure is strongly operating offshore of the central Philippines and heading towards East Sea, reported the National Hydrology Meteorology Forecast Center.
 
By evening yesterday, the pressure was located at 12 degrees north latitude and 129, 8 degrees east longitude, at 550 kilometer eastward of the central Philippines. The strongest wind speed near center blew at level 6- 8.
 
In next 24 hours, the pressure system is predicted to move towards west northwest of its speeding at 15- 20 kilometers per hour.
 
By evening today, it will centered at 13, 5 degrees north latitude and 125 degrees east longitude on the central coastal territorial water of Philippines with its extreme wind at level 6- 7, gust up to level 8- 9.
 
A cold front is moving from the northern to the southern region. According to weather forecast, the cold front will affect to the northern, north central and mid central region.
 
Because of the influence of cool air, the northern provinces will see showery weather and thunderstorms.
 
By October 2, the showery weather will also be expected in central provinces from Thanh Hoa to Thua Thien-Hue.

Meanwhile, the weather in Ho Chi Minh City is sunny daytime, no rain at night. The highest temperature reaches at 34 degrees Celsius, and the lowest temperature at 25 degrees Celsius.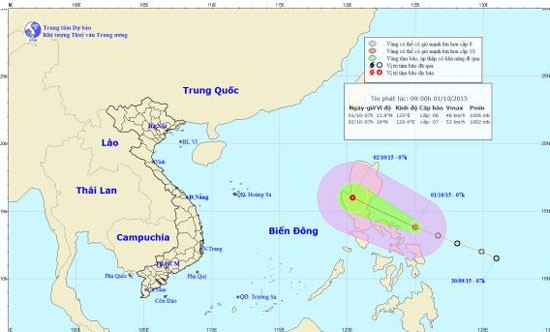 Direction of the tropical low pressure on East Sea today. (Source:The National Hydrology Meteorology Forecast Center)