After a low pressure zone entered East Sea yesterday, it developed into a new tropical depression, bringing medium to heavy rains in the mid central region of Vietnam, reported the National Hydrology Meteorology Forecast Center.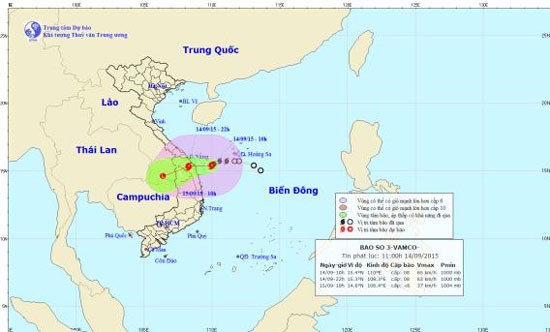 Direction of new storm. (Photo: the National Hydrology Meteorology Forecast Center)
The tropical depression was located at 15, 5 degrees north latitude and 113, 0 degrees east longitude on the southeastern territorial water of Paracel Island, with its strong wind near center at level 7- 9. However, it is predicted  to develop into a new storm today.
Early this morning, the storm is reported to be located at 15, 7 degrees north latitude and 110, 2 degrees east longitude, at 180 kilometers of eastern coastal province of Quang Nam. The strongest wind sustains at level 8- 10.
Due to the storm, the northern territorial water of East Sea and Paracel Islands will see level 7- 8 with strong wind, gust up to level 9- 10, sea rough.
The extreme wind near center offshore will gust up to level 6- 9 in the mid central region.
Meanwhile, an on going cold front has expanded in the central and the northern central region, according to forecast weather, it will accompany with the storm to bring medium and heavy rains on the large scale in the central region.
On September 13- 16, both the mid central and northern Central Highlands region have experienced heavy rains with the rainfall at 200- 200 mm.
By September 15- 17, the highest rainfall in the north central region will reach at 200 – 300 mm, even in some places at over 300 mm.
Next, medium and heavy rains will sweep through the northern and southern region on September 16- 18.
Heavy rains yesterday caused flood in local rivers from Ha Tinh to Quang Ngai provinces. Particularly, heavy rains saw a faster rise of flood level on local rivers of Ha Tinh, Thua Thien- Hue, Quang Nam and Quang Ngai alerted at level 1, 2; meanwhile, flood level on rivers of Quang Binh, Quang Tri and Quang Ngai was warned at level 2, 3.
In addition, because of the strong operation of southwest monsoon, the southern territorial waters from Binh Thuan to Ca Mau and Spratly Islands saw level 5- 8 wind speed, thunderstorm and cyclone.
The northern and north central provinces are affected directly by the cold front in this year's winter season.
In the previous days, the provinces from Nghe An to Thua Thien Hue appeared prolonged heavy rains.
In Ho Chi Minh City, heavy rains and thunderstorm have occurred at night. The highest temperature in the area maintains 24- 33 degrees Celsius.
Coping with the bad weather, the Central and the Committee for Search and Rescue have sent an urgent message to coastal provinces from Quang Ninh to Binh Thuan to ask fishing vessels to move to safer places to avoid the storm.