A low pressure zone intensified into a tropical low pressure system over the southern East Sea January 18, the National Hydro-Meteorological Forecast Center said.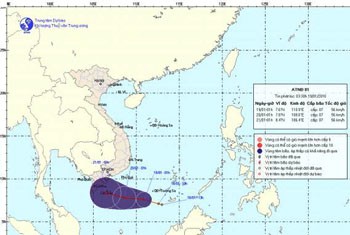 The chart shows the tropical low pressure system off the southern coast of Vietnam on January 19 (Photo: the national weather bureau)
At 1 am on January 19, the system lay centered over southern Truong Sa (Spratly Islands).
It packed winds of up to level 7, or 50-61 kilometers an hour, near the eye.
In the next 24 hours the system would intensify and move northwest at a speed of 10 kilometers, the center forecast.
The system will bring medium to heavy rains to the central coastal region.
The southern, south-central, and Central Highlands regions have experienced unseasonable rains in the last few days and this is expected to last another day or two.