According to the National Hydro Meteorological Forecasting Center, the tropical low pressure system has intensified into tropical storm 'Bebinca' early this morning, June 21.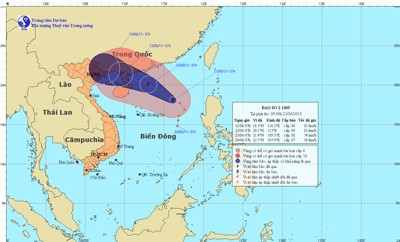 Chart shows direction of Bebinca on June 21 (Photo: national weather bureau)
Bebinca is the second storm to occur on the East Sea this year.
At 7am, the storm was located 18.1 degrees north latitude and 116.1 degrees east longitude, about 440 kilometers east northeast of Hoang Sa (Paracel) Islands.
Strongest wind speed near the eye of the storm was at level 8 to move at 62-74 kilometers an hour.
The storm is forecast to move northwestwards at 15 kilometers an hour in the next 24 hours.
By 7am on June 22, Bebinca will be located 20.1 degrees north latitude and 113 degrees east longitude, 220 kilometers east northeast of Hainan Island in China. Wind gales will escalate to level 9, blowing at 75-88 kilometers an hour.
The storm has generated strong winds to stir the northern waters of the East Sea including Hoang Sa Islands. Gulf of Tonkin will become rough and choppy from tomorrow, June 22.
Southwesterly winds are also gaining in strength to stir the waters off provinces between Binh Thuan and Ca Mau, Ca Mau and Kien Giang, as well as on the Gulf of Thailand, and mid and southern parts of the East Sea.
The Central Steering Committee for Flood and Storm Prevention and Control has sent an urgent dispatch to related ministries and coastal provinces from Quang Ninh to Phu Yen, asking them to continuously notify fishing boats of the storm's position and guide them to move away from dangerous areas.