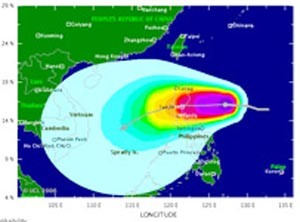 The British weather forecast center TSR predicts storm Chebi wil enter the East Sea on Saturday.
A tropical low pressure system heading toward the Philippines early this morning strengthened into a tropical storm named Chebi (meaning "swallow" in Korean), and is forecasted to enter the East Sea in the coming days.
Early Friday morning, the center of storm Chebi was monitored at 15.9 degrees north latitude and 129.8 degrees east longitude off the shore of the Philippines, 550 km east of Luzong Island.
The storm is reportedly generating category 10 to 11 gale force winds (101 km/hour) around the eye of the storm. 
However, wind speeds are forecasted to increase, with gale force winds up to category 12 to 13. International meteorologists expect Chebi to make landfall in the Philippine's island of Luzhong on Saturday afternoon. 
Chebi's projected path has prompted authorities in the Philippines to raise an alert for possible floods and landslides. This comes after Typhoon Cimaron slammed into the region just last week, leaving 15 people dead from flash floods and landslides.
The storm is expected to weaken before pounding the eastern Philippines and moving into the East Sea, added meteorologists monitoring the situation.