The National Hydro Meteorological Forecasting Center said that the new tropical 'Storm Doksuri' has now moved into the East Sea and is forecast to intensify and head towards China.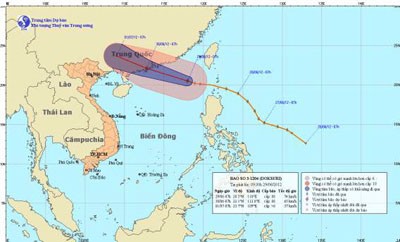 Chart shows direction of 'Storm Doksuri' (Photo: nchmf)
At 7am on Friday, the storm was centered 20.5 degrees north latitude and 118.0 degrees east longitude, 760 kilometers northeast of Hoang Sa (Paracel) Islands.
Strongest winds near the eye of the storm reached level 8-9 to move at 62-88 kilometers an hour.
Within the next 24 hours, the storm is expected to move west northwestwards at 20-25 kilometers an hour. By 7am on Saturday it will be located around the coastal area of Macau (China).
Besides causing strong winds and rough waters in the northern parts of the East Sea, the storm could also cause strong southwesterly winds in the middle and southern parts of the East Sea, making waters choppier.
The Central Steering Committee for Flood and Storm Prevention and the National Committee for Search and Rescue on Thursday sent a dispatch to coastal provinces from Quang Ninh to Binh Dinh, asking them to update the storm's path to inform fishing boats out at sea.
They should also keep regular contact with all fishing boats and prepare rescue teams in case of emergencies.