Tropical storm Molave turned toward Hong Kong on July 18, causing heavy rains and typhoons in the North, said Le Thanh Hai, deputy director of the National Center for Hydro-Meteorology.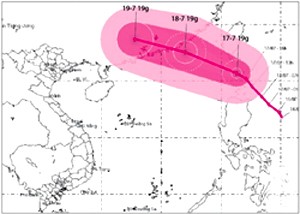 The red line shows the direction of Storm Molave which approachs Hong Kong and causes heavy rain in the North of Vietnam. (Photo: the Nation Weather Bureau)
Mr. Hai said normally storms will travel into China in July, however, due to the current atmospheric conditions low pressure is pressed in the South, which cause heavy rains in the North.
Last year, the previous tropical storm traveled to China and caused fatal heavy rains in the northern mountainous provinces.
Lao Cai, Yen Bai and Phu Tho Provinces became seriously flooded, with various landslides occurring and the Pink River breaching dikes in Ho Hoa, Phu Tho Province.
A total of 135 people were either killed or injured in that storm.
Mr. Hai warmed Northern locals and residents to prepare for the next typhoon to minimize damage.