Koppu and Choiwa storms formed over the East Sea off the Philippines on September 13, said Bui Minh Tang, director of the National Hydro Meteorological Forecast Center.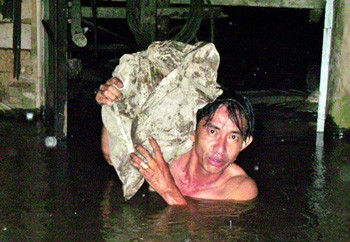 Heavy rain on September 13 flooded many streets in HCMC and submerged this man's house in Thu Duc District (Photo: SGGP)
Koppu, the year's eighth storm (as called in Vietnam), lay centered northwest of the Philippines on September 13 to move west-northwest.
On the afternoon of September 13, Choiwan was 3,000 kilometers far from Storm Koppu. It packs level 9 winds which are expected to intensify and reach level 12 in the next few days.
From September 15, Choiwan will affect Koppu and change it complexly, the center said.
Koppu is forecast to move close to China's Hainan island by noon of September 14 with winds of up to level 9.
At a meeting with the Central Steering Board for Storm and Flood Prevention and Control on September 13, Minister of Agriculture and Rural Development Cao Duc Phat said coastal provinces should be keep a close eye on Koppu and fishing boats still at sea and direct the latter to safe places.
Northern mountainous provinces, especially in the northeast, should prepare to cope with flashfloods and landslides when the storm approaches, he warned.
The board said central and Central Highlands provinces have suffered damage worth VND477 billion (US$26.5 mil) from tropical low pressures in September.
They have sought assistance of VND169.5 billion ($9.4 mil) from the Government to help farmers and repair infrastructure.
They also sought 9,000 tons of rice for people affected by rains and floods.
Heavy rains flood HCMC streets
A downpour lasting over two hours on the evening of September 13 caused severe flooding on many streets in Ho Chi Minh City's Districts 2, 5, 6, 8, 11, Tan Phu, Tan Binh, and Binh Thanh.
3 Thang 2, Hong Bang, and An Duong Vuong streets in Districts 5, 6, 10 were the worst affected.
The floods also marooned five houses in Linh Trung Ward, Thu Duc District.
At some places in the ward, the water was over one meter deep and flowed into houses.
Residents blamed it on the ward's location in a low-lying area.