Storm named Aere which is forecast to enter the East Sea this evening after it was developed from the previous tropical low pressure in the morning, warned the Central Hydrology Meteorology Forecast Center.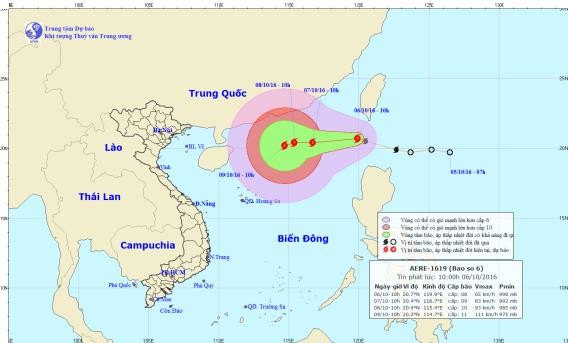 Tyhoon 'Aere' will enter East Sea by this evening. (Source: The Central Hydrology Meteorology Forecast Center)





Its position was defined at 200 kilometers north northeastward of Philippines' Ludong Island at 2 am today. The maximum speed of wind near the center was registrered with gust of 25 km/h.

In next 23 hours, the typhoon will move west northwestward at 20- 25 kilometers an hour. By 1am tomorrow, it will be centered at 680 kilometer toward the Paracel Island with its peak wind of level 10- 11.

Because of its influence, strong wind will blow level 8- 11 in the territorial waters near the center.

Within next 24- 48 hours, storm 'Aere' is expected to move westward at 5- 10 kilometers per hour; and after that it continues developing stronger.

By early morning of Saturday, the Paracel Island will be predicted to be next position of the typhoon. The maximum wind will be at level 11- 12.

In next 48- 72 hours, it will move west southwestward at five kilometers an hour.

Currently, the southern territorial water of the East Sea from Binh Thuan to Kien Giang and Gulf of Thailand has seen rain, thunderstorm, big wave and strong wind because of the powerful operation of the southwest monsoon.