Bui Minh Tang, director of the National Hydro Meteorological Forecasting Center, said that Typhoon Son Tinh is likely to make landfall in the north central coastline between Ha Tinh and Thanh Hoa Provinces by late Saturday or early Sunday.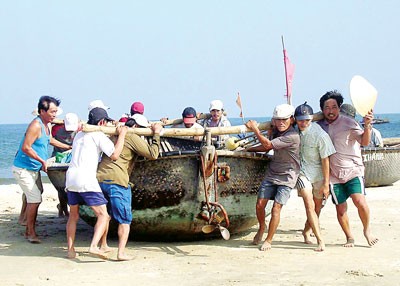 Fishermen move their boats to a shelter in Da Nang City (Photo: SGGP)
At 7am this morning, the typhoon was located along the Hoang Sa (Paracel) Islands. Wind gales near the eye of the storm measured at level 11 blowing 113-117 kilometers an hour.
The most serious concern after the typhoon makes landfall will be the cold front that will move in. Combination of the storm and the cold front will cause heavy rainfall from Quang Tri Province till the entire northern region.
Some areas in Thanh Hoa and Nghe An Provinces will see rainfall of up to 500-600mm. The northern region will also see rainfall of 200-300mm.
According to Cao Duc Phat, Minister of Agriculture and Rural Development, Son Tinh is likely to be the strongest typhoon since the beginning of the year, moving at the fastest speed towards the mainland.
The typhoon will affect a very wide area in the central and northern regions. Local authorities should evacuate residents from danger   areas and watch out for torrential rain-triggered flooding which might breach dykes.
About 200,000 households from Nghe An to Quang Nam Provinces will have to evacuate if the typhoon hits the central region.