Located directly in the storm's path, Khanh Hoa alone has reported 12 fatalities, while the coastal province of Binh Đinh and the Central Highlands province of Lam Dong have reported five and three deaths respectively, according to the Central Steering Committee for Natural Disaster Prevention and Control.

It said the 17 people missing are all crew of shipwrecked cargo vessels.
In the swathe of destruction carved by Damrey, 531 houses collapsed completely and nearly 24,000 houses were damaged, with Khanh Hoa once again bearing the brunt with 15,838 houses affected by the heavy rain, strong gusts, and flooding.
Reports say that as many as 40 vessels – mostly off the coast of Phu Yen Province – have been sunk.
Rainfall of 100-200mm has been recorded in Quang Nam and Khanh Hoa provinces and heavy downpours are predicted to continue even after the storm weakened into a tropical depression in the afternoon.
The forecasting centre has warned these localities of flash floods in mountainous areas and inundation in lowland areas.
In Khanh Hoa and Phu Yen, Damrey triggered a widespread blackout, hampering communication about storm consequences. However, by 5pm, the State-owned power utility, Viet Nam Electricity (EVN), said it had repaired and rendered operational all 220kV lines downed by the typhoon, and restored 50 per cent of 110kV stations and lines.
Deputy Prime Minister Trinh Đinh Dung yesterday visited several localities in Khanh Hoa, inspecting damage caused by the storm and directed relief efforts. In coastal Van Ninh District, he was told that the storm had claimed one life and left three injured, collapsed 14 houses and unroofed many others.
He urged Khanh Hoa leaders to provide prompt assistance for victims, including accommodation for those who need it, while ensuring the safety of dams and reservoirs, managing traffic and restoring the power network.
Earlier reports said flooding and landslides had completely isolated some areas in the south-central province of Bình Định.
The typhoon has also affected other provinces like Quang Nam, Quang Ngai, Ninh Thuan, Dak Lak, and Dak Nong, causing blackouts and flooding, devastating crops and disrupting traffic.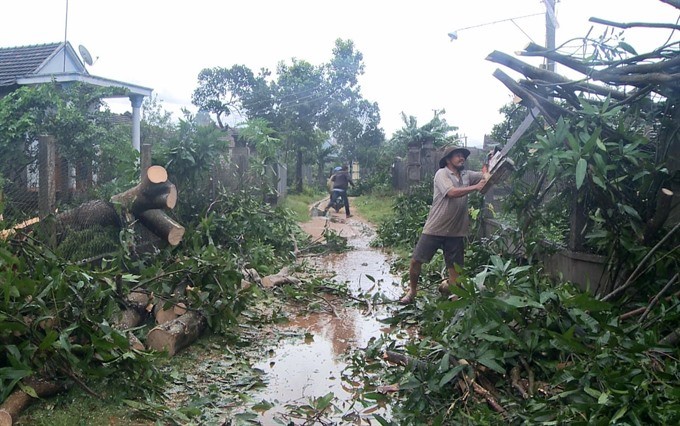 People in Da Lat City clear trees felled off by heavy rains and powerful winds of the typhoon Damrey.

The Central Steering Committee for Natural Disaster Prevention and Control reiterated its advise to affected provinces and cities to evacuate residents from vulnerable areas.

As of 2am, November 4, the provinces of Phu Yen, Khanh Hoa and Ninh Thuan had moved over 35,100 people to safer places.

More than 1,700 people in coastal Can Gio District of HCM City had also been evacuated.

Heavy rains and high tides have inundated a number of areas in HCM City, with many roads in downtown districts being 40-60cm underwater, clogging traffic and inconveniencing local residents.

Flights cancelled

National carrier Vietnam Airlines and other carriers continued adjusting their flights to and from several central localities on November 4.

Vietnam Airlines cancelled 14 flights between Ha Noi/HCMC and Quy Nhon, between HCMC/Da Nang and Buon Me Thuot, Ha Noi/HCM City and Da Lat, and between Ha Noi and Chu Lai.

The cancelled flights are planned to operate on November 5.

Low-cost carrier Vietjet Air also cancelled 22 flights from/to airports in the central region, including Da Nang, Chu Lai, Quy Nhon, Tuy Hoa, Cam Ranh and Da Lat.

The airlines advised passengers to visit their official websites or call customer service centres for updated information.

Tags: