A new typhoon named Dianmu is approaching Leizhou Peninsula and Hainan Island of China after it developed from tropical low pressure in the north East Sea, according to the National Hydrology Meteorology Forecast Center on August 17.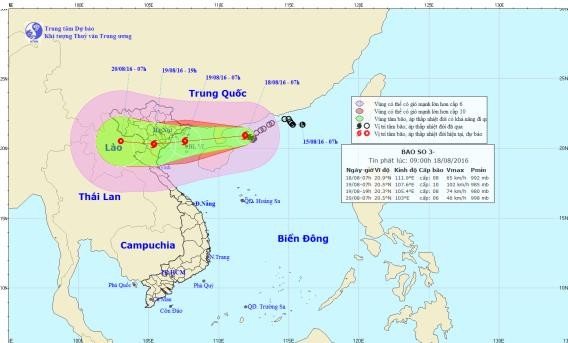 Typhoon Dianmu is approaching the northern region of Vietnam. (Photo: the National Hydrology Meteorology Forecast Center)
While another tropical low pressure operating in Gulf of Tonkin has unexpectedly been weakened into tropical depression zone.
At 8am today, the storm was centered at 20, 9 degrees north latitude and 111, 9 degrees east longitude of the southwestward of Guangdong province (China). The strongest wind near center blew at level 8- 11.

By this evening, the wind will be measured at level 6- 8, even gust up to level 9- 14 near the center, big wave of 4- 6 meters and sea rough in Gulf of Tonkin including Bach Long Vi, Cat Hai, Co To and Van Don island district.

In next 24- 48 hours, it will mainly move westward at 15- 20 kilometers, and enter the mainland with its speed of level 9- 10. According to weather forecast, the storm will be weakened into tropical low pressure as entering the mainland.
At emergency meeting on typhoon Dianmu yesterday in Hanoi, Minister of Agriculture and Rural Development and Chief of the National Steering Committee on Natural Disaster Prevention and Control Mr. Nguyen Xuan Cuong required local authorities to give vessels instruction on sea moving safety places.
By early morning tomorrow, typhoon Dianmu is forecast to locate at 20, 5 degrees north latitude and 107, 6 degrees east longitude, at 100 kilometers of eastward of the coastlines from Quang Ninh to Thanh Hoa and Vietnam's mainland. It will have maximum wind of level 10- 14 near center.

The provinces of Quang Ninh, Hai Phong, Thai Binh, Nam Dinh, Ninh Binh and Thanh Hoa will suffer strong wind of level 8- 14.

Because of the impact of typhoon circulation, both territorial and offshore waters of Guangdong province (China) will see powerful wind of level 8- 12 and sea rough. Heavy rains, thunderstorms and powerful wind continue covering the northward of East Sea.