Typhoon Dianmu's heavy rains and flash flood left 13 dead, missing after it made landfall in the north on August 19 and was weakened into low pressure on August 21.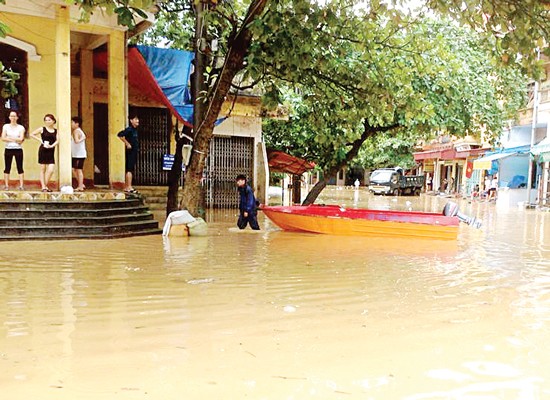 Yen Bai sinks underwater after downpour rains. (Photo: SGGP)

The Steering Committee for Natural Disaster Prevention and Search and Rescue of Son La province reported that the prolonged bad condition have shouldered over Son La province in past two days. 42 families locating in landslide areas of Moc Chau district were moved to safety places however irrigational, exit water and traffic systems in the province seriously were destroyed by rains and flooding.

By August 21, water level on Thao River of Yen Bai province started decreasing slowly. At that time, local authority and people have hurried up overcoming consequences and stabilizing life.

More than 900 households locating in Hong Ha, Nguyen Thai Hoc, Nam Cuong ward of Yen Bai city were sunk under water.

According to Steering Committee for Natural Disaster Prevention and Search and Rescue of Yen Bai province, heavy rains and flash flood blew up 16 houses, 41 house roofs. The local authority removed 1, 511 households to safety areas. Traffic system running across Yen Bai was interrupted during Saturday and Sunday. It is estimated that the total damage reached at VND 100 billion.
Initial statistics showed that 13 dead and missing were due to impact of typhoon Dianmu.
The National Steering Committee for Natural Disaster Prevention, Search and Recue reported that more than 2, 000 households were affected by downpour rains and flooding. The center had to remove quickly 21, 500 families out of damaging zones. From August 20- 21, water level from Red River boosted a faster rise, and poured into branches of Day, Tich Giang, Duong Rivers.
More than 10, 000 hectares of rice and vegetable crops in provinces of the Red River Delta were lost completely after the natural disaster. Of these, around 3, 064 hectares in Hanoi, 2, 560 hectares of rice crops and 138 hectares of vegetable crops in Vinh phuc were destroyed.
According to the National Hydrology Meteorology Forecast Center, heavy rains will continue hitting the northern mountain provinces and the northern provinces of Yen Bai, Lai Chau, Son La, Hoa Binh and Vinh Phuc need to keep close watch on landslide.
By August 22- 30, the weather condition in the southern region is predicted to see suffer medium- heavy rains, deep cloud, thunderstorms, cyclone and the southwest monsoon of level 3.