The Dianmu- This year's third typhoon of Vietnam was weakened into tropical low pressure at 4pm yesterday after it made landfall in the east northern provinces of Thai Binh, Hai Phong, Hung Yen and Hai Duong, reported the National Hydrology Meteorology Forecast Center.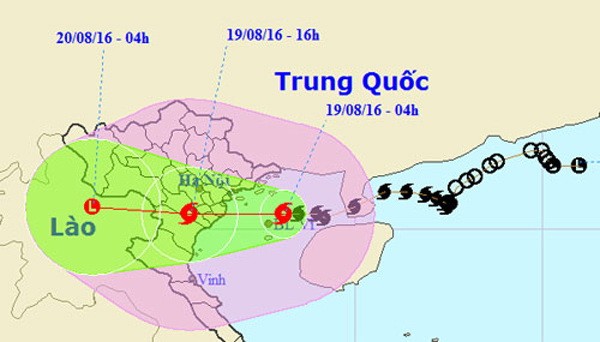 Position of typhoon Dianmu after it makes landfall in the east northern region of Vietnam.
The depression moved mainly mid west and west- northwestward at 15- 20 kilometers per hour. Maximum wind in the northern provinces of Quang Ninh, Hai Phong, Thai binh, Lang Son, Bac Giang, Bac Ninh, Hai Duong and Hung Yen was measured at level 7- 9, and gusted level 6- 7 in Ha Nam, Nam Dinh, Ninh Binh, Thanh hoa, Vinh Phuc and Hoa Binh. Both northeast, northern delta and midland region and the central province of Thanh Hoa experienced heavy rains on the large scale.
Earlier, typhoon Dianmu was centered at 20, 5 degrees north latitude and 107, 3 degrees east longitude on territorial waters from Quang Ninh to Nam Dinh with sustainable wind of level 9- 12 near center.
At 2pm on Friday, the super storm was positioned at 20, 7 degrees north latitude and 106, 4 degrees east longitude of mainland of Hai Phong and Thai Binh province with its strongest wind speed of level 10- 12.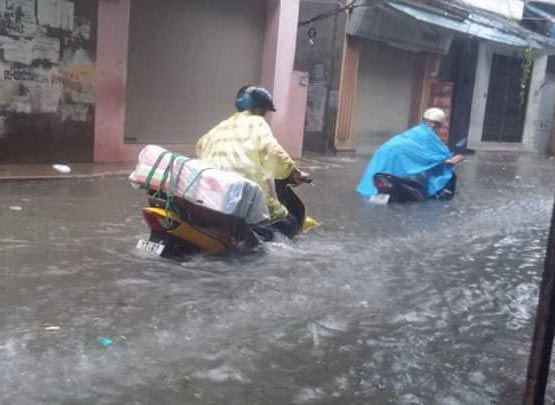 Heavy rain floods main roads in Hanoi capital.
The two hour heavy rains occurred in Hanoi with its rainfall of 100- 200 meters which flooded roads and households. Prolonged heavy rains uprooted trees along main roads in Hanoi capital.
Powerful wind gusted up to level 9- 11 in Bach Long Vi and Co To island districts.
The highest rainfall in east northern and northern central provinces was measured at 50- 150 mm.
By Saturday, storm No. 3 is going to move mid west and west northwestward at 15- 20 kilometers per hour; and it will continue affecting directly to the weather condition in northern and northern central region.
Because of the impact of storm circulation, the areas of Gulf of Tonkin including Bach Long Vi, Cat Hai, Co To and Van Don will be shouldered by wind speed of level 8- 12, big waves of 3- 5 meters and sea rough.
Due to the influence of 3- 3, 5 meter flood tide, water level rise rapidly in the northern coastal provinces from Quang Ninh to Thai Binh.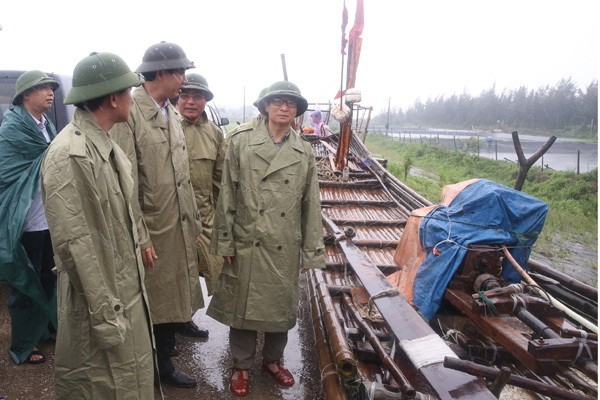 Deputy Prime Minister Vu Duc Dam and local leaders visit and check measures against the storm No. 3.
According to the National Hydrology Meteorology Forecast Center, the storm will be weakened into tropical pressure, at 21,1 degrees north latitude and 104,3 degrees east longitude of the mainland of west northern region at 1pm today. The strongest wind near center is forecast to be at 50 kilometers per hour.
Within next 12- 24 hours, the tropical depression will move westward at 15- 20 kilometers, and after that it will enter the mainland of upper Laos and become weaker and weaker.
In order to deal with the bad weather, the National Committee for Search and Rescue mobilized 183.000 officers, four helicopters, 107 ships, 357 whaleboats and over 1, 200 cars to move local people to safety areas.
Under the direction of Prime Minister Nguyen Xuan Phuc, deputy prime ministers constantly checked damaged spots as well as adopted measures against heavy rains and flash flood in affected localities. Local authorities also timely issued the announcement on the ongoing storm to residents, and instructed fishing boat moving out of the damaged areas.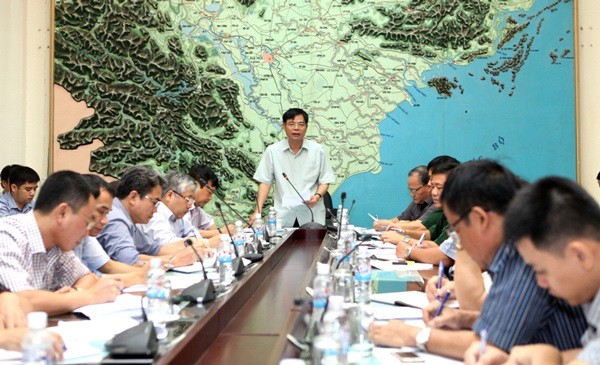 Chief of the National Steering Committee on Natural Disaster Prevention and Control Mr. Nguyen Xuan Cuong asks functional forces quickly move people out of damaged landslide areas at an emergency meeting yesterday morning.