Typhoon Kaitak is now moving towards the Gulf of Tonkin from the East Sea and will trigger torrential rainfall in the northern region, said Bui Minh Tang, director of the National Hydro Meteorological Forecasting Center.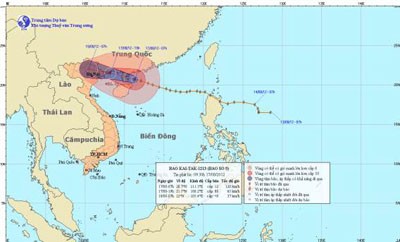 Typhoon Kaitak has changed course and expected to hit North Vietnam by afternoon of August 17 (Photo: nchmf)
According to the forecast bulletin posted this morning, August 17, the storm is likely to make landfall in Mong Cai City of Quang Ninh Province by this afternoon.
The storm will bring torrential rainfall of 100-200mm over the northern mountainous areas and 50-100mm on the plains. The northern region is now under serious threat of landslides and flashfloods, said Mr. Tang.
Torrential rainfall will continue until August 19, he added.
According to the Central Steering Committee for Flood and Storm Prevention, 91 boats are still operating in the Hoang Sa (Paracel) Islands and 494 boats in the Gulf of Tonkin. These areas are aligned dangerously in the eye of the storm.
The Ministry of National Defense has tasked 20,000 soldiers to be on alert to cope with possible emergency situations arising with the storm. Eight helicopters, 72 rescue vessels and 1,000 boats have been mobilized for stand-by rescue operations.
According to the steering committee, border army forces have been informed that nine boats carrying 89 fishermen from the central province of Quang Ngai are fishing in the Hoang Sa Islands area. They need to move towards Hainan Island of China to avoid the storm.
The Ministry of Foreign Affairs has sent a request to the Vietnamese Embassy in China and Chinese Embassy in Vietnam, asking them to allow Vietnamese fishermen to take shelter on Hainan Island.
Cao Duc Phat, minister of Agriculture and Rural Development, has instructed provinces in the northern mountainous areas to prepare to evacuate residents from highly vulnerable landslide and flood prone areas.
Quang Ninh Province and Hai Phong City must closely monitor operations of boats at tourist destinations like Ha Long Bay, Van Don, Cat Ba and Do Son.
Provinces from Quang Ninh to Quang Ngai have been asked to constantly update the position of the storm so as to inform boats out at sea from impending dangers.