According to the national weather bureau, Typhoon Son Tinh has now weakened into a tropical low pressure zone as of this morning, October 29, but has left two dead and 23 still reported missing in the northern region.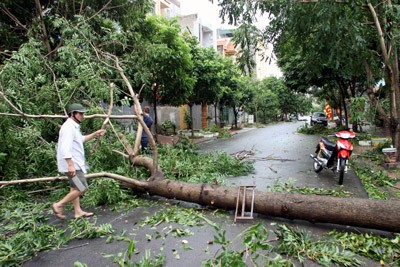 A fallen tree across a street in Ninh Binh Province in aftermath of Typhoon Son Tinh (Photo: SGGP)
The typhoon weakened after skirting the northern coastline and is currently moving east northeast at 10 kilometers an hour and expected to further abate within the next 12 hours. 
Provinces in the southern parts of the Red River Delta are seeing sunny weather with calm winds.
According to the Central Steering Committee for Flood and Storm Prevention, two people are reported dead in Nam Dinh Province and  23 others are still missing in Thai Binh, Ha Tinh, Nghe An and Quang Ninh Provinces and Hai Phong City.
 
The National Committee for Search and Rescue said that the storm also injured two people in Ha Tinh Province and Hai Phong City, blew 323 roofs off houses in Thai Binh Province and destroyed 360 hectares of rice in Hai Phong City and Thanh Hoa Province.
By this morning, 35 people including 14 foreigners and 21 Vietnamese on the GSF KEY HAWAI drilling rig of the Vietnam National Oil and Gas Group in Hai Phong were still stuck because of broken cables--which were being used by three vessels for towing the rig.
Rescue forces are keeping a close eye on the rig and are ready with helicopters and vessels to rescue the trapped people as soon as the weather improves.
A 100m section of the 180m tower of the Television Station in Nam Dinh Province was flattened by strong winds on Sunday night, injuring one staff.
This is said to be one of the tallest and most advanced TV towers in the northern region.
The storm triggered heavy rain and flooding in Ba Che District in Quang Ninh Province, where several places are still submerged under one to two meters of water. Local authorities are calling local people to move to shelters.
Related article:
Typhoon changes course to skirt northern coastline