Typhoon Lekima will bring heavy rain to the mainland in the next few days and threaten the lives of offshore fisherman from Binh Thuan on the lower central coast to Ca Mau at the southern tip, the national weather bureau forecasts.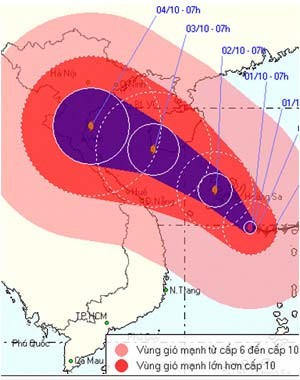 The predicted path of Lekima Typhoon on October 4.
At 1:00 pm yesterday, the eye of the storm was located 350 kilometers southeast of the Hoang Sa Archipelago. The winds swirling around the center registered between eight and nine on the Beaufort Scale.

During the next 24 hours, Lekima is forecast to keep moving west at 10-15 kph for a bit before swinging northwest. Soon after noon tomorrow, the eye of the storm should be lying 220 kilometers east of China's Hainan.

In a report issued yesterday, the Quang Ngai Province Department of Flood and Storm Protection said there were still 1,095 fishing vessels and some 8,800 crew members out at sea but all were in regular radio contact with the mainland.

While most fishing boats have heeded an urgent call to find shelter, an alarming 45 vessels with 2,807 crewmen are still fishing around the Hoang Sa and Truong Sa islands in the typhoon's path.

Border guards have been equipped with radios to maintain constant communication with them.