A tropical low pressure system have moved into the East Sea and intensified into Typhoon Mujigae possible to trigger flooding in the northern and central regions, said director of the National Hydro Meteorological Forecasting Center Hoang Duc  Cuong at a meeting yesterday afternoon.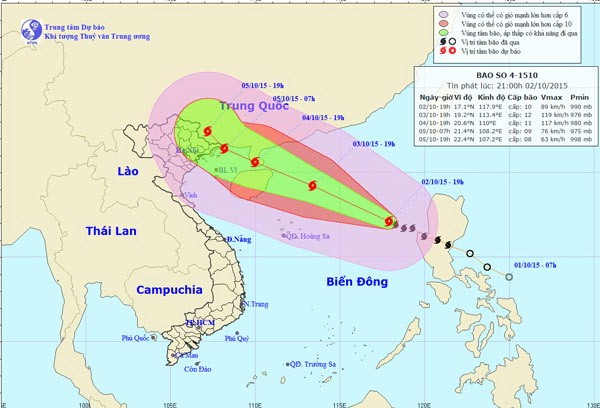 Direction of the fourth typhoon in the East Sea on October 2 (Photo: the national weather bureau)
It is the fourth storm hitting the East Sea this year.
The typhoon was likely to gain strength, head towards Hainan Island of China and make landfall in the northern region afterwards rendering heavy rains  and flooding in the northern and central region, Mr. Cuong said.
In addition, a cold front has already slammed into the northern region causing rains in many areas.
The center forecast that the weather in Ho Chi Minh City will be sunny at the weekend. Showers will scatter in some places in late afternoons with temperatures hovering around 25-34 degrees Celsius.