Typhoon Mirinae will approach the eastern part of East Sea October 31 and will center 300 kilometers north-northeast of Truong Sa (Spratly) Islands late afternoon the same day, Vietnam's national weather center said.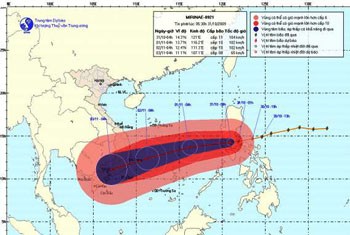 The chart shows Typhoon Mirinae's direction on October 31 (Chart by the national weather center)
Strong winds near the storm's eye will reach level 10-11, 89 to 117 kilometers an hour, with gusts at level 12-13. There will be strong winds in a radius of about 100 to 250 kilometers from its eye.
At 4am October 31, Mirinae was centered around the south of Luzon Island, off the Philippines, with winds near its eye reaching level 11.
Bui Minh Tang, director of the National Hydro Meteorological Forecast Center, said that a cold front from the north was moving toward Vietnam and will reach northern provinces November 1.
Deputy Prime Minister Hoang Trung Hai October 30 asked local authorities from Quang Binh Province to Ho Chi Minh City to prepare for the storm and possible floods and guide boats to shelter.
The same day, the Ministry of Health ordered its departments to safeguard health clinics, as well as medical staff and patients, and treat storm victims at flood and landslide prone areas.
The National Steering Committee for Flood and Storm Prevention and Control and the National Committee for Research and Rescue also asked relevant authorities from Quang Binh to HCMC to inform and call on boats at sea to seek safety, and prepare for heavy rains and floods.
Related article:
Typhoon destroys bridge, knocks out power in Philippines