Typhoon Mirinae will make landfall over the central region between Binh Dinh and Ninh Thuan Provinces and weaken into a tropical low pressure zone on November 2, the national weather bureau has said.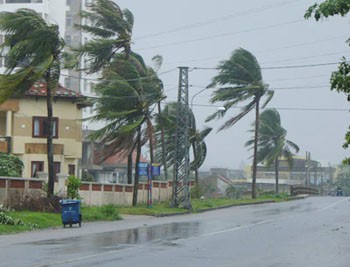 Storm Mirinae lashes Phu Yen Province on November 2 (Photo: Thanh Nien)
The National Hydro Meteorological Forecast Center said the system would pack winds of up to level 7, or 50-61 kilometers an hour, with gusts of up to level 8 or 9.
On November 1 the storm lay 450 km east of the coast between Quang Ngai and Phu Yen Provinces and was moving west at a speed of 20 to 25 kilometers an hour.
On the morning of November 2 it was 170 kilometers off the coast with winds of 75 – 102 kilometers and stronger gusts.
The central part of the East Sea will see level 9-10 winds and extremely rough seas. The region between Thua Thien-Hue and Binh Thuan Provinces will have medium to heavy rains.
Meanwhile, in the north, a cold front spreading in a southerly direction affected some areas November 1 and it is forecast to reach the central region.
As a result, the Gulf of Tonkin and the northern part of the East Sea experienced northeasterly winds of up to level 7 and gusts of up to level 9.
On November 1 authorities in the area between Da Nang City and Binh Thuan Province ordered 10,646 boats with 73,055 fishermen to take shelter to avoid the season's 11th storm.
Most were moored safely by November 1 with only 149 of them, with nearly 2,000 people on board, yet to do so.
The border army in provinces like Thua Thien-Hue, Quang Nam, Phu Yen, and Khanh Hoa are keeping watch at river mouths to prevent boats from going out to sea.
Central authorities strengthened reservoirs to safeguard them in case of heavy rains.

Minister of Agriculture and Rural Development Cao Duc Phat, who is also the head of the Central Steering Committee for Flood and Storm Prevention, held a meeting the same day with leaders of Khanh Hoa and Ninh Thuan Provinces to discuss measures to cope with Typhoon Mirinae.
He ordered local authorities to coordinate with border soldiers and immediately evacuate residents living near rivers and sea to safe places.
Khanh Hoa authorities said the evacuation would be completed by 8pm the same day. The province also released water from the Cam Ranh and Suoi Dau reservoirs and dispatched officials to districts to direct safety operations.
Binh Thuan authorities said they are in contact with Phu Quy Island and have ordered boats to take shelter and farmers to protect their aquaculture "cages" at sea.
The province's steering committee for flood and storm prevention said adequate preparations are in place.
The Hue Relic Prevention Center said November 1 it has ordered officials and staff to take measures to safeguard the city's relics from the storm.
Farmers in Thua Thien-Hue Province harvested their crops the same day to save them from the impending storm.