Typhoon Parma lay centered east of Hoang Sa (Paracel) Islands October 5 and has been forecast to move in a westerly direction to threaten the Vietnamese coast in the next few days.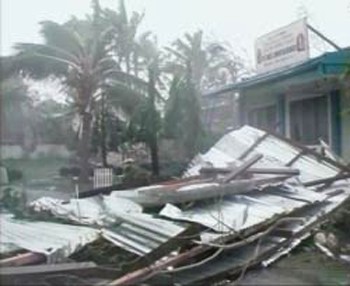 Typhoon Parma hit northern Philippines on October 3, killing at least 16 people (Photo: Reuters)
Le Thanh Hai, deputy director of the National Hydro Meteorological Forecast Center, said the winds near the typhoon's eye are currently at levels 11 to 12 with gusts at levels 13 to 14, or 103 to 133 kilometers an hour.
The storm is affecting an area within a radius of 250 kilometers from its eye.
The weather in the southern part of the East Sea and southern Vietnam turned cloudy on October 4.
The Central Steering Committee for Flood and Storm Prevention and Control asked the Ministries of National Security, Police, and Transport and people's committees of coastal provinces in the region from Quang Ninh to Quang Ngai to inform fishermen of the position and direction of Typhoon Parma.
It is the 10th typhoon to threaten Vietnam this year.