Typhoon Parma, the tenth storm to hit Vietnam this year, is forecast to make landfall in northern Vietnam on October 14, the national weather bureau said.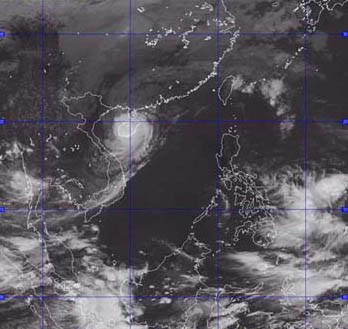 Typhoon Parma is forecast to weaken to a tropical-low pressure system over northern Vietnam
At 7am on October 13, Typhoon Parma's center was 250 kilometers east off the coast of Quang Ninh to Ha Tinh provinces. The strongest winds near the storm's eye were at level 9, or 75 to 88 kilometers an hour, with gusts up to categories 10 to 11.
Over the next 24 hours, it is forecast to move west at a speed of 10 to 15 kilometers an hour. The weakened tropical low-pressure system is then set to make landfall and lie centered in the provinces of Thanh Hoa and Nghe An.
Winds near the pressure system's center are forecast to be around a level 6 to 7, or 39 to 61 kilometers an hour.
A cold front from the north is moving toward the south and could affect the Northern provinces of Vietnam on the afternoon and night of October 13, the National Hydro Meteorological Forecast Center said.
Affected by Typhoon Parma and the cold front, the Gulf of Tonkin is currently seeing winds at categories 7 to 8 with rough seas and gusts near the storm's eye at level 10 to 11.
Coastal regions including provinces from Quang Ninh to Nghe An have been advised to monitor rapidly rising seawater levels, said the national weather bureau.
The east of the Red River Delta and provinces from Thanh Hoa to Quang Binh are advised to watch for landslides and floods due to heavy rains.