According to the latest weather news from the National Hydrology Meteorology Forecast Center, the seventh typhoon this year weakened to a tropical low pressure after it entered offshore territorial water of Quang Ninh this morning.
By 10 am today, the typhoon was centered at 21. 2 degrees north latitude and 108. 3 degrees east longitude in the territorial water of Quang Ninh province with its strongest wind speed of 50- 60 kilometers an hour. The highest rainfall in Quang Ninh and Lang Son province was measured at 50- 80 mm.
Within next 12 hours, the tropical low pressure is going to move north- northwestward at 15 kilometers an hour. By 10pm, its center will be at 22. 6 degrees north latitude and 107. 8 degrees east longitude in the southern mainland of Guangxi province (China).
Because of the influence of the typhoon circulation, powerful wind at the Bach Long Vi, Van Don, Cat Hai and Co To island district will sustain at level 6- 9. Meanwhile, the strongest wind in the northern coastal territorial waters from Quang Ninh to Thai Binh can keep blowing level 6- 7.
By 10am today, paralleled storm Haima was positioned at 16. 5 degrees north latitude and 125. 5 degrees east longitude at 360 kilometers of the Luzon Island (Philippines) with its peak wind up level 17.
The super typhoon will move west northwestward at 25- 30 kilometers an hour in next 24 hours. Tomorrow, its position will be defined at 18. 3 degrees north latitude and 119. 3 degrees east longitude in the northeastern territorial water of the East Sea. The damaged zone will parallel 16 degrees line of north latitude and 117 degrees east longitude.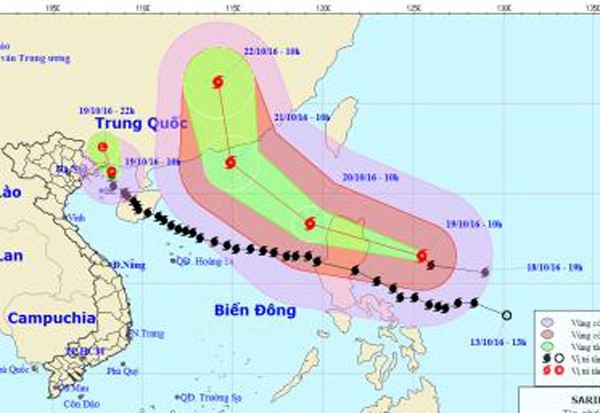 Storm Haima is moving west northwestward at 25- 30 kilometers an hour.
During next 24- 72 hours, storm Haima will move west- northwest to northwestward with its wind speed of 20- 25 kilometers.
By October 21, it will center at 220 kilometers away from Hong Kong (China).