The National Hydrology Meteorology Forecast Center said on August 6 a supper typhoon named Soudelor was operating in the Southerneast islands in Taiwan (China). Its strongest wind near center was measured at 14 level.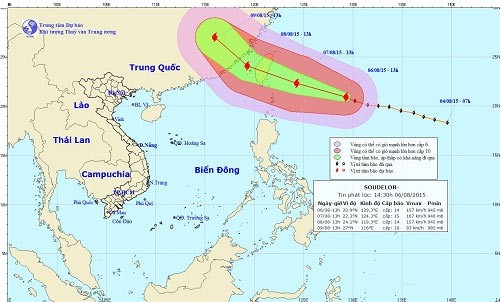 Typhoon Soudelor will hit China's Fujian Province on August 8.
It is estimated to move in West-West-North in next 24 hours. The center in the country and in Asia-Pacific forecast that typhoon Soudelor will hit China's Fujian Province.
Due to the typhoon's impact, on August 8, the area of the South of East Sea including Spratly islands and the southern territorial waters from Binh Thuan province to Ca Mau; Ca Mau to Kien Giang province will face 7-9 level strong wind, heavy rains, thunderstorm and sea rough.