Typhoon Son Tinh is moving at a very fast pace towards Vietnam and expected to bring with it heavy rainfall in the central and parts of the northern region, as reported by Bui Minh Tang, director of the National Hydro Meteorological Forecasting Center.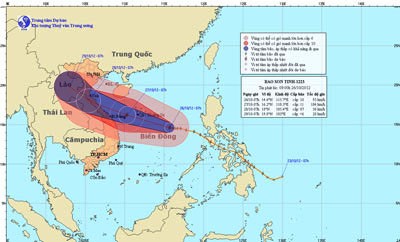 Chart shows direction of typhoon Son Tinh on October 26 (Photo: NHMFC)
At 7am today, October 26, the typhoon was located 450 kilometers east southeast of the Hoang Sa (Paracel) Islands. Wind gales near its center reached level 9-10 moving at 75-102 kilometers an hour.
Typhoon Son Tinh will approach the Hoang Sa Islands by noon today and then head towards the coastline of the central region.
Within the next 24 hour, Son Tinh will move west northwest at 20-25 kilometers an hour and might gain in strength. By 7am tomorrow, it will be located southwest of Hoang Sa Islands, 200 kilometers east of the central provinces between Thua Thien-Hue and Quang Ngai.
Strongest winds near the eye of the storm will increase to level 10-11 to blow at 89-117 kilometers an hour.
After the typhoon makes landfall in Vietnam, a cold front will also slam in and combine with southeasterly winds to bring heavy rain in the central region and the southern parts of the Red River Delta, said Mr. Tang.
The central region will see average rainfall of 300mm from October 27-30 or upto 400-500mm in several places. The southern parts of the Red River Delta will face 200-300mm precipitation.
At present, about 270 boats with 2,600 fishermen on board are still operating near the Hoang Sa Islands, Mr. Tang said.
Cao Duc Phat, Minister of Agriculture and Rural Development feared that heavy rains would trigger flooding in the north-central region and the Red River Delta. He has ordered relevant authorities to guide the 270 fishing boats to shelter.