The National Hydro Meteorological Forecasting Center said that the tropical depression in the East Sea has now intensified into 'Typhoon Vicente' and is set to make landfall in North Vietnam by July 25.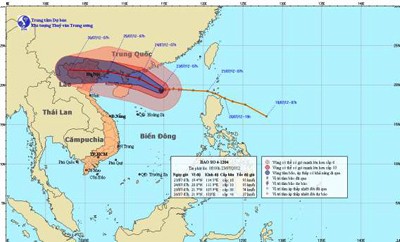 Typhoon Vicente is expected to make landfall in North Vietnam by July 25 (Photo: nchmf)
At 7am this morning, July 23, the typhoon was positioned 390 kilometers northeast of Hoang Sa (Paracel) Islands.
Wind gales near its center reached level 9-10 moving at 75-102 kilometers an hour.
According to Bui Minh Tang, director of the Meteorological Forecasting Center, the storm with gust winds of level 12, blowing at 118-133 kilometers an hour, will move into the Gulf of Tonkin and affect the mainland weather by July 24.
Typhoon Vicente is moving northwestwards at 15 kilometers an hour and might strike northern parts of Vietnam by early morning of July 25. The storm will gain in strength as it approaches the mainland, said Tang.
The Central Steering Committee for Flood and Storm Prevention has sent a dispatch to coastal provinces from Quang Ninh to Phu Yen, asking them to prepare for the storm.
Related article:
Tropical depression set to intensify into storm in East Sea