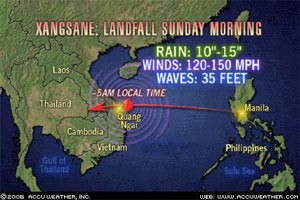 Photo: www.accuweather.com
Typhoon Xangsane hit the central provinces from Thua Thien-Hue to Quang Ngai with winds of up to 150 miles per hour early on Sunday morning, having whipped up coastal waters from Ha Tinh to Phu Yen and out to the Paracel Islands.
The previous day, eight helicopters and two airplanes had been placed on standby to rescue people and deliver emergency supplies, as well as two army battalions in Thua Thien-Hue.
As a result of the careful preparations, 1,085 soldiers, 2,350 militiamen, 39 trucks and seven ambulances were ready to do battle with the huge storm from their base in Da Nang.
The Ministry of Public Security provided 133 tents, 403 medical units, 10 speedboats, 3,000 lifebuoys, 1,666 flashlights, 13,300 raincoats and 429 alarms.
In case of landslides, dozens of emergency crews were deployed around the region, especially on the mountain passes of Hai Van, Ca and Cu Mong.
During a visit to the Hydro Meteorological Service on September 29, Prime Minister Nguyen Tan Dzung praised the staff for their timely and accurate forecasts.
These forecasts, he said, had enabled the government to take the initiative in protecting the inhabitants of the central coast and hinterland.
Because the storm was so severe, he stressed that the weather bureau's most important task was to continue sending out accurate and timely forecasts.