Currently, a cold front is moving from the northern region to the southern region of Vietnam, reported the National Hydrology Meteorology Forecast Center on January 31.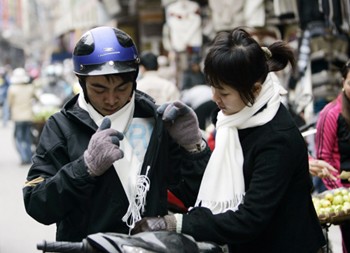 Cold weather covers the northern region.
The cold air affected directly to the north, north central and mid central provinces yesterday.
Because of the influence of cold spell, the north, north central and mid central provinces start suffering showery weather from February 1.
Meanwhile, the Gulf of Tonkin and the northern territorial water of East Sea see level 6- 9 northeast monsoon and sea rough.
From February 1, the middle East Sea and the offshore of territorial waters of the central region suffer level 6- 8 northeast wind and 2- 4 meters big waves. The southern territorial water from Binh Thuan to Ca Mau province generate at level 5- 7 northeast wind.

The damaged cold is hitting the northern and north central region with the daytime temperature at less than 13 degrees Celsius on the large scale.
The lowest temperature in the north midland and delta region is measured at 10- 12 degrees Celsius, and at 4- 7 degrees Celsius in the mountain.
According to weather forecast, ice and freezing are going to locate the northern mountain region. By February 2- 3, the lowest temperature in the area will drop to 2- 3 degrees Celsius.