A record-setting heat wave in recent history has occurred in the area of northern and central region in previous days, with it's the highest temperature at 40 degrees Celsius.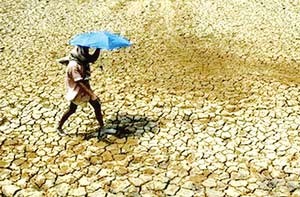 (Photo:SGGP)
Weather experts warned that other extreme heat waves are predicted to impact in northern and central region in the upcoming days.
According to the Central Hydrology Meteorology Forecast Center, recently, the provinces from Thanh Hoa to Phu Yen have experienced uninterrupted heat waves. The highest daily temperature in Ha Noi reached at 40 degrees Celsius, even up to over 40 degrees Celsius in some places.
The extreme hot weather in the area of Hong River Delta will last until May 29. By May 30, showery weather accompanied with thunderstorm will shoulder over the place.
Deputy General Director of the National Hydrology Meteorology Forecast Center Le Thanh Hai said that central region has also faced to hot weather condition on the large scale in past 28 days. Additional similar two or three heat weaves are forecasted to occur in the central provinces in June.
Meanwhile, Ho Chi Minh City and southern region will continue to maintain hot weather without rain next days. After that, the temperature will reduce at 31- 34 degrees Celsius daytime, and 26- 27 degrees Celsius at night.
In the related weather news, several heat waves accompanied with strong winds caused a catastrophic pine forest failure at Trieu Loc commune, Hau Loc district, Thanh Hoa province on May 27.
According to the forest management bureau of Thanh Hoa province Le The Long, hot weather and strong wind burnt 20 hectares of pine forest in Hoang Xuan commune.
Currently, Thanh Hoa's forest management forces in collaboration with functional forces of Hau Loc and Hoang Hoa district mobilized hundreds of people to extinguish fire.