The central and southern areas of Vietnam, including Ho Chi Minh City, received an unseasonal heavy downpour on March 4.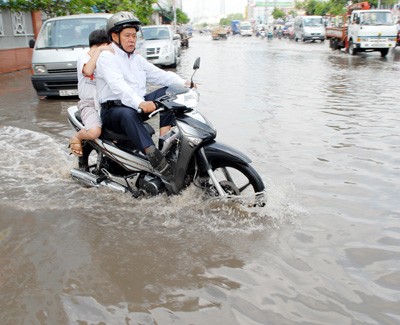 File photo shows flood caused by a heavy rain on Kinh Duong Vuong Street in District 6, HCM City
Le Thanh Hai, deputy director of the National Hydro Meteorological Forecasting Centre, described it as an unusual phenomenon in the south to experience such heavy rains during the dry season from January to May. He explained the cause of the unusual rain to be the effect of tropical low pressure moving from the South China Sea to the mainland.
The sudden downpour caused many trees to fall in Nguyen Dinh Chieu Street, resulting in electrical short-circuiting for a few hours.
Meanwhile, a cold wave is moving from north to south. Each time a cold spell occurs in the north, it causes unusual rain and showers in the south and south central regions.
This unusual rainy weather will continue for the next one or two days according to the weather centre.
On the same day, the Mekong Delta provinces of Can Tho, Vinh Long, Hau Giang, Ben Tre, Tien Giang, Bac Lieu and Ca Mau also received sudden and erratic rainfall.
The rain proved a blessing for farmers' fruit orchards and hundreds of hectares of rice fields which had been experiencing drought and seawater intrusion for the last few months. The sudden showers will help farmers save expense on irrigation.
Tran Duy Hien, head of the Irrigation Department under the Ministry of Agriculture and Rural Development said that during the last three days, the north and central regions had seen a substantial amount of rain. Although it was not enough to improve the shortage of water in the reservoirs, it certainly had helped farmers to water their crops.
According to the National Hydro Meteorological Forecasting Centre, a stronger cold spell hit the north yesterday, causing temperatures in many areas to drop to 12-16 degrees Celsius.