The flood level in the area of upper stream of Mekong Delta region has increased rapidly over warning level 1 which badly affected the lives of people and agricultural production, reported by the National Meteorology Hydrology Forecast Center.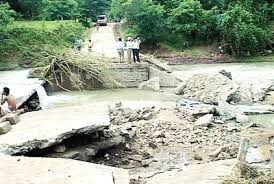 (Photo:SGGP)
The water level at Tien River's Tan Chau reached 3, 65 meters over warning level 1; meanwhile, at Hau river's Chau Doc measured 2, 8 meters on August 10.
In the coming days, the floodwater on the local rivers is forecast rising rapidly. By August 14, the highest water level at Tan Chau will reach 3, 9 meters; meanwhile, at Chau Doc at 3, 1 meters.
Currently, the local authorities in An Giang, Dong Thap focus on consolidate dyke systems along local rivers to protect autumn- winter crop production; moving children to safe places; establishing rescue teams in order to limit damages which may be caused by the flooding.
The Central Steering Committee for Flood and Storm Prevention and National Committee for Search and Rescue in An Giang and Dong Thap province required local authorities to keep a close watch the weather situations such as rains, storms, rising of upstream water level in order to have timely measure prevention as well as ensure people's life as well as agricultural production.

Statistics showed that in Dong Thap province, 36 children were swept by flooding from early 2014 until now, increased double, compared to the same period last year.

In the related weather news, the National Meteorology Hydrology Forecast Center said that due to influence of southwest monsoon, a heat wave hit again in the coastal areas of central and southern central provinces on a wide area on August 10, with the highest daily temperature of 35-36 degrees Celsius, and up to 36 degrees Celsius in some places like Quang Nam, Binh Dinh provinces.
In Ho Chi Minh City, the highest temperature measured at 33 -34 degrees Celsius.
Meanwhile, the highest temperature in the Northern provinces reached at 35-37 degrees Celsius, and up to 37 degrees Celsius in some places, last few days.