Upstream water level on Red River system is unexpectedly raising, causing floods in northern province of Lao Cai because of huge discharge of water from upstream reservoirs in China, reported the Department of Agriculture and Rural Development of Bat Xat district in Lao Cai yesterday.
 
The flood overflowed and sank hectares of vegetable crops in the communes of Quang Kim, Ban Qua and Thinh Tuong. However, because the flood has gone down drastically, it did not cause much damage to farmer's life and production.
 
However, a land slide occurred in the roads in interaction of Ban Xeo and Muong Hum. In Trinh Tuong commune, water level in the river rose over 1 meter before receding which caused difficulties in traffic.
 
By yesterday evening, the local authorities in collaboration with functional forces helped people to harvest vegetable under water.
 
The National Hydrology Meteorology Forecast Center of Lao Cai province announced that flood level on Red River system was down quickly yesterday as China stopped letting out flood at hydropower dams on upstream Red River.
 
Currently, Vietnam and China have not yet an agreement to announce about flood discharge  via floodgates on Red River system.
 
Both sides have just cooperated and exchanged information of observation from provincial to ministry level about water source environment problems on Red River as it flow into Vietnam. Hence, when China got out flood on upstream, they did not inform the situation to Vietnam.
 
Regulation on flood discharge between countries in the region has been implemented only on Mekong River system.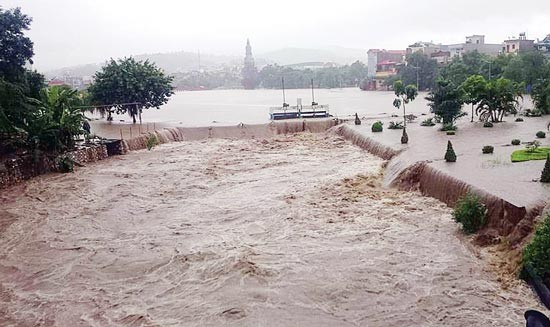 Upstream water discharge in China floods Red River. (Photo:SGGP)