The US naval hospital ship Mercy accompanied by high-speed vessel USNS Millinocket carrying nearly 1, 000 officers, doctors and medical staffs from the United Sates, Australia and New Zealand docked at the Tien Sa Port in the central city of Da Nang on Monday.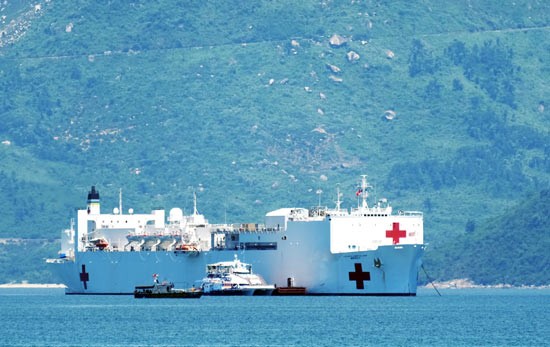 The US naval hospital ship Mercy docks at Tien Sa Port in Da Nang city.
This is the sixth time that the ship Mercy arrived in Vietnam to offer free health examination, treatment and free medicine to patients, highlighting the sixth anniversary of Pacific Partnership 2015 (PP15) in Vietnam. The ships' arrival and activities are parts of the program on  humanitarian assistance and multi continental disasters preparedness in the Oceania-Asia-Pacific region.
 
The welcome ceremony was held in Tien Sa Port with the presence of representatives of the Foreign Affairs Department of the Defense Ministry, the Navy Zone 3 High Command, Military Region 5 High Command, Border Guard High Command and the Da Nang Department of Foreign Affairs.
 
Representatives of Coordinating Agency of Pacific Partnership 2015 (PP15) program, military attaché, the United States Ambassador to Vietnam, the United States Embassy in Ho Chi Minh City also attended in the event.
 
During 11 days tournament, navy forces of PP15 have been joining in many activities with the Vietnamese side in sharing information and experience concerning to cardiology, pediatric, radiotherapy, health care recovery solutions,  therapeutic treatment and others.
 
They will also join in music performance and charity programs.
 
On this occasion, naval forces of PP15 will carry out 50 heart surgeries and hip-joint surgeries.
 
On August 27, doctors will experience in diaster relief drill in large scale in Da Nang such as rescuing people in sub-marine, taking care of patients ashore and moving victims on ship.
The journey is scheduled to run until August 28.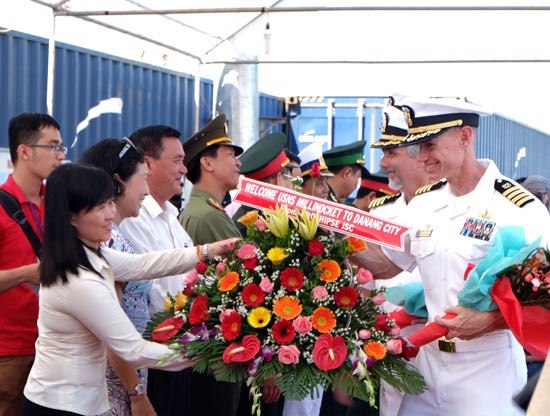 The welcome ceremony takes place at Tien Sa Port.