A strong tropical depression in the East Sea has now developed into a new storm and heading towards Central Vietnam, warned the National Hydro Meteorological Forecasting Center on September 17.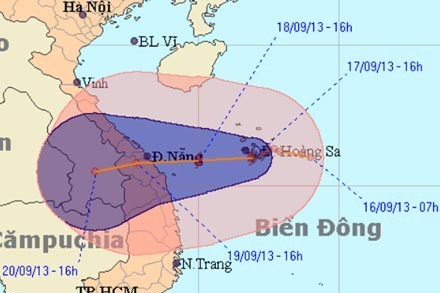 The storm is forecast to hit Vietnam's central provinces (Photo: the National Hydro Meteorological Forecasting Center)
An urgent meeting held in Hanoi chaired by Deputy Prime Minister Hoang Trung Hai discussed measures to cope with the storm.

Weather forecasts said that the storm was centered at latitude 16 degrees north and longitude 111.9 degrees east, and located about 160km east of coastal areas of Quang Tri and Quang Nam Provinces in Central Vietnam. Near the eye of the storm, wind speeds measured at level 8.

Bui Minh Tang, Director of the Forecasting Center, said that the storm would move westwards along the central coastline and is expected to make landfall between night of September 18 to morning of September 19. Accordingly, preparations to cope with the storm should be complete before September 18.

Weather forecasts predict heavy showers before and after the storm from the central to the highland provinces. Moreover, there will be huge waves and flooding in the central city of Da Nang, all the way to Ha Tinh Province.

River water will rise to alarming levels, especially at this time when half the reservoirs are full. The National Committee for Search and Rescue has asked the Ministry of Foreign Affairs to send diplomatic notes to neighboring countries seeking help for Vietnamese fishermen.

Border guards in combination with local authorities and families have informed 38,611 boats still out at sea on the latest developments and direction of the storm.

Deputy Prime Minister Hoang Trung Hai said local authorities should ask boat owners to shelter in safe places. He expressed his concern over overflowing lakes as there is high possibility of flooding.
Therefore, the Ministry of Agriculture and Rural Development and the Ministry of Industry and Trade have been assigned to control water levels in reservoirs to curb flooding but at the same time ensure adequate supply of water.