Ministry of Agriculture and Rural Development yesterday held a conference in Hanoi to review about anti- flooding works for two typhoons Mirinea and Nida, under the chair of Deputy Prime Minister Trinh Dinh Dung.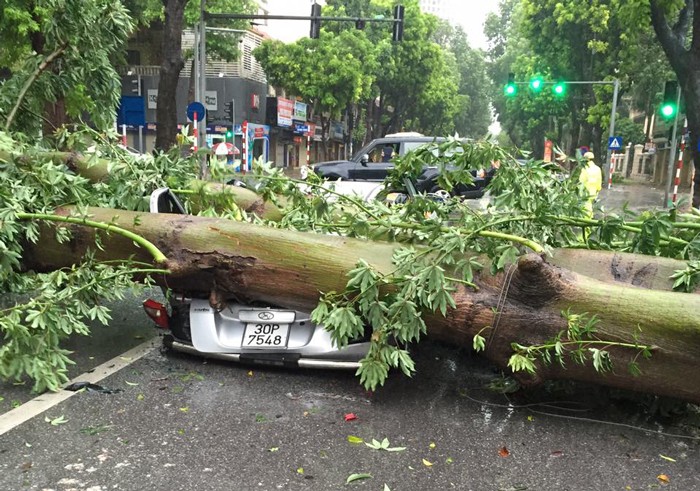 Typhoons Mirinea causes serious damages. (Photo:SGGP)
At the conference, Deputy Minister of Agriculture and Rural Development and Deputy Chief of Central Steering Committee for Natural Disaster Prevention Mr. Hoang Van Thang reported that Mirinea and Nida affected indirectly to Vietnam's mainland, causing serious damages about people and property during past ten days. Particularly, seven people died or were missing, and 63 people were injured in the typhoon Miriane. Besides, its strong operation destroyed over 215, 000 hectares of rice crops, and blew up more than 31, 000 electric poles.
Although storm Nida did not land to Vietnam's mainland, its circulation caused heavy rains over the northern mountain provinces. Around 13 people died or were missing and 19 injured people through this year's second typhoon of the country. Total damage from two typhoons were estimated to reach over VND 7, 000 billion.
Deputy Chairman of the People's Committee of Thai Binh province Mr. Pham Van Xuyen said that with the mentioned above damages, the country should plan better forecast preparations for natural disasters like tropical low pressures, super-typhoons, landslide and flash floods.
A representative leader of Nam Dinh province said that the hydrology meteorology agencies had inexactly forecast wind speed, and local authorities, fish-vessel owners were subjective in propaganda works as typhoon Miriane landed on Nam Dinh province with its peak wind of level 12- 13.
The Central Steering Committee for Natural Disaster Prevention also affirmed that the country mostly was passive in copying with the typhoons because it unexpectedly moved fast better than initial forecast as approaching near shore.
Earlier, Ninh Binh province did not list one of affected provinces by typhoon Miriane at online conference with 12 the central coastal provinces from Quang Ninh to Nam Dinh on July 26. However, it is the fact that Ninh Binh is one of serious effected provinces by the super storm.
Deputy PM Trinh Dinh Dung noted that there are still many shortcomings and inadequacies in forecasting and copying with natural disasters. This is the main reason caused terrible damages about people and property after the super- typhoons.
The natural disasters will continue hitting Vietnam in next time, so relevant ministries, departments, agencies and local authorities need to try all efforts to overcome failures and weaknesses, improve forecasting and implementing methods against the bad weather, concluded he.