"Localities need to actively respond to possible super- typhoons and tropical low pressure within next months" stressed Deputy Director of the Southern region's Hydrology Meteorology Forecast Center Mr. Dang Van Dung at a short interview with Sai Gon Giai Phong Newspaper's reporter.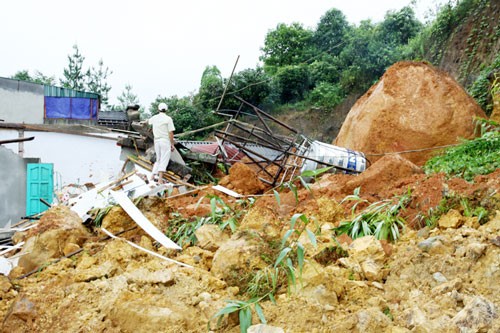 Vietnam has suffered natural disasters in last months of this year.(Photo:SGGP)
The deputy director said that El Nino phenomenon ended in May, 2016 and the strong operation of El Nino lasted a longest period in the historical data show.

The centers for the world's leading hydrology meteorology forecast said that ENSO is predicted change from El Nino to La Nina phenomenon in next months. For this reason, it will affect directly to the weather condition of Vietnam in general and the southern region in particular.
The El Nino-Southern Oscillation (ENSO), an irregularly periodical variation in winds and sea, which showed between El Nino and La Nina.

Due to its influence, the rain accompanied with thunderstorms and wind will continue hitting the southern, the southeastern and southwest coastal regions by December, 2016. Total rainfall from September to November is forecast to be higher than the previous years.
This year's typhoons and tropical low pressures entered East Sea have reported later than the previous years. Until now, two storms and three tropical low depressions have been hitting East Sea. Of these, this year's first typhoon- Mirinea made landfall in Nam Dinh and Thai Binh.
Next typhoons and low pressures will respectively be able to appear in November to December and forecast to affect directly to the southern central and southern provinces.
Flood tide will be at over level 3, an estimate of 0, 1- 0, 2 meters in the last three months of this year.