The water level in the Nine Dragon and Sai Gon Rivers is rising rapidly, reported the National Hydrology Meteorology Forecast Center on October 25.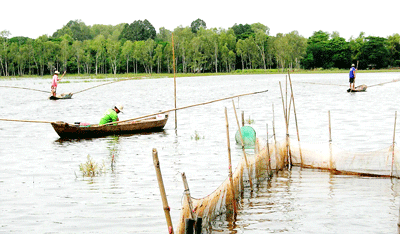 Flood tide appears in Nine Dragon River and Sai Gon River. (Photo: SGGP)
The highest water level was recorded at 1, 64 meters on the Tien River at My Thuan; at 2 meters on the Hau River at Long Xuyen; and at 1, 44 meters on Sai Gon River at Phu An station on October 24.
In next 3- 4 days, the water level on Nine Dragon River and downstream of Sai Gon River is predicted to rise high follow flood tide on October 28- 29. Accordingly, flood tide is forecast to reach at 2, 6- 2, 7 meters at Tan Chau, at 2, 4- 2, 45 meters at Chau Doc.
Stations on Nine Dragon River and downstream of Sai Gon River will reach at level 2- 3.
The Central Hydrology Meteorology Forecast Center asked Ho Chi Minh City and the provinces in the Mekong Delta region keep close watch on the moves.

From October 26- 31, the weather in the area of Ho Chi Minh City has seen mist in morning, sunny daytime and rains at night. The highest daily temperature reaches at 30- 33 degrees Celsius, and the lowest temperature at 23- 24 degrees Celsius.